The secret to glowing youthful skin
Ageing starts early in the mid-twenties! It starts as fine lines under and at the corners of the eyes and on the forehead. Skin starts to lose its brightness and pigmentation starts. It gets worse as we continue to age.
What Is A Skin Booster Treatment?
Skin Boosters reverse the effects of ageing in the skin It gives what everyone wants, which is a youthful face, dewy and radiant skin that requires minimal makeup.
The 2 most effective Skin Boosters
Juvederm Volite Skin Booster
Volite is made of hyaluronic acid or HA. HA is naturally found in the skin but with ageing, HA in the skin reduces. HA attracts water into the skin and gives the skin hydration. The injections promote collagen formation and give the skin firmness, elasticity and smoothness. Over time, though ageing continues, the skin booster treatments continue to improve skin quality and skin becomes more youthful.
Rejuran Healer Skin Booster

Rejuran Healer uses Polynucleotide (PN) which is an upgraded form of Polydeoxyribonucleotide (PDRN) to boost collagen production and rejuvenate skin naturally. The use of PN in skin rejuvenation is based on studies that have shown healing and cell growth effects by PN. PN is extracted from salmon DNA as salmon DNA is most compatible with the human. Read more
How Does Skin Booster Work?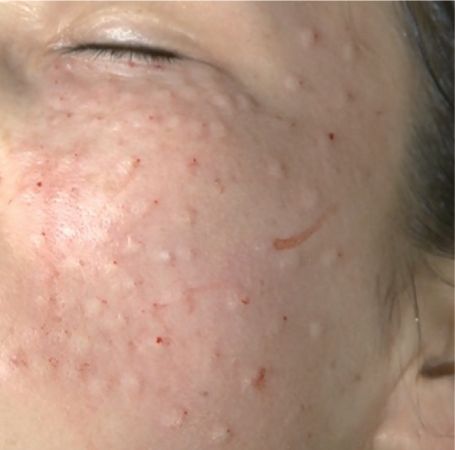 Multiple injections of HA or Rejuran Healer are done all over the skin. The injection in itself stimulates collagen production. HA promotes hydration. Rejuran H promotes collagen production.
Recommendations for the maximal effect of youthful, dewy and radiant skin, is to do both Volite and Rejuran. There should be an interval of a month between Volite and Rejuran treatments.
Who Will Benefit From Skin Boosters
Those who seek dewy radiant complexions
Those who want to look younger
Those who want to slow down the aging of the skin.
Those with wrinkles: Lines on the forehead and under the eyes, Smokers line, lines across the cheekbone and lines lower cheek
Those with creepy neck skin and necklines
Those with wrinkled skin over the décolletage or back of hands
Those suffering from very dry irritated eczematous skin as hydration helps to reduce flare-ups
Those suffering from dry skin especially during menopause
Those with hyperpigmentation especially melasma as hydration is shown to help reduce pigmentation
Those with acne scars as scars improve with each treatment
What Is The Skin Booster Procedure?
Anaesthetic cream is applied to the face for 30 minutes. Microdroplets of either HA or Rejuran H are injected using a very fine needle, just beneath the skin. Volite contains lidocaine to make the procedure comfortable. There may be redness or swelling over some of the injection sites, which goes away after a few days. Occasionally there may be bruises which will go away after 5-7 days.
What Not To Do Before The Procedure?
Stop all supplements such as garlic. Vitamin E, fish oils, and medication such as aspirin and NSAIDs as they may increase bleeding or bruising. At the clinic, we give patients an oral Arnica supplement to minimise swelling and bruising.
How Many Treatments Will I Need?
Volite requires only one session unlike treatments with other HAs which requires 3 sessions. The hydrating effect lasts for about 8 months. Maintenance is 8-12 monthly
Rejuran H requires 3 sessions, 4 weeks apart with maintenance 3-6 monthly.