Zo Medical Cebatrol
Acne and oil control pads designed to remove oil, reduce pore size, smooth the skin's surface, and reduce irritation.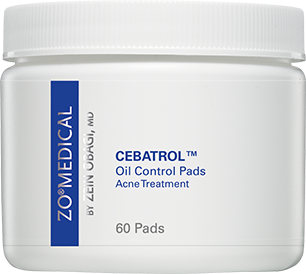 Clenziderm Foaming Cleanser

Cleanser for acne prone/oily skin. Reduce sebum level on the surface of the skin. Cools and calms irritated skin.

Clenziderm Pore Therapy

pH Balancing toner for acne-prone skin. Unclog pores and remove dead skin cells. Helps kills acne-causing bacteria quickly.

Pore-Redefining & Resurfacing Glucosamine
This innovative serum helps redefine pores, remove superficial dead skin cells, improve skin clarity, and fight free radicals by combining subtilisin, glucosamine, oxypeptide, and Hydron polymer.

Microdermabrasion Facial Cleanser With Self-Adjusting Crystals

Light foaming cleansing gel that removes excess oil, make-up, and environmental impurities, while Self-Adjusting Crystals wash away dead skin cells and promote cell renewal.  Self-Adjusting Crystals slowly dissolve under pressure to prevent over exfoliating. Great for mature, thin skin.

Acne Gel

This gentle and effective 2% salicylic acid acne spot treatment clears existing acne blemishes while reducing oil production and the occurrence of future breakouts. It is also helpful for calming breakouts associated with rosacea, without causing sensitivity.